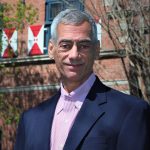 Lewes BPW Board
Tom Panetta
---
Role: President
Tom Panetta was elected to the Board of Public Works (BPW) in April 2018.
Tom also serves as BPW representative to the City of Lewes Mitigation Planning Team and as the Division Chair for Electric.
In addition to his position on the BPW, he has been a member of the City of Lewes Planning Commission since 2015.
Tom lived on Long Island before leaving for college. He received a BS in Civil Engineering with a minor in Nuclear Engineering and Economics in 1981 from Rensselaer Polytechnic Institute. He worked toward a MBA at Stony Brook University and Villanova. For 25 years, he worked for General Electric (GE) Power in the design, construction and operation of nuclear power plants and in GE's substation automation division.
After leaving GE, Tom consulted in the nuclear power industry for 5 years including advising senior executives on Nuclear Regulatory Commission (NRC) and industry quality control standards in the design and manufacturing of nuclear power plant components.
Tom and his husband Richard have owned a house in Lewes since 2001. In 2007 they moved to Lewes full time and renovated their turn-of-the-century Victorian home.  You can email Mr. Panetta at TPanetta@LewesBPW.com